...last updated: June 8, 2019
---
---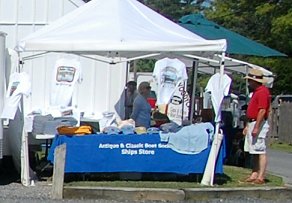 ACBS Ship's Store
- Antique and Classic Boat Society - Here you can find out more about Antique & Classic Boats, purchase ACBS clothing and learn about our club.
If Vintage Boats interest you, come over and find out what's going on in The Chesapeake Bay Chapter of the ACBS.
Website: chesapeakebayACBS.org
---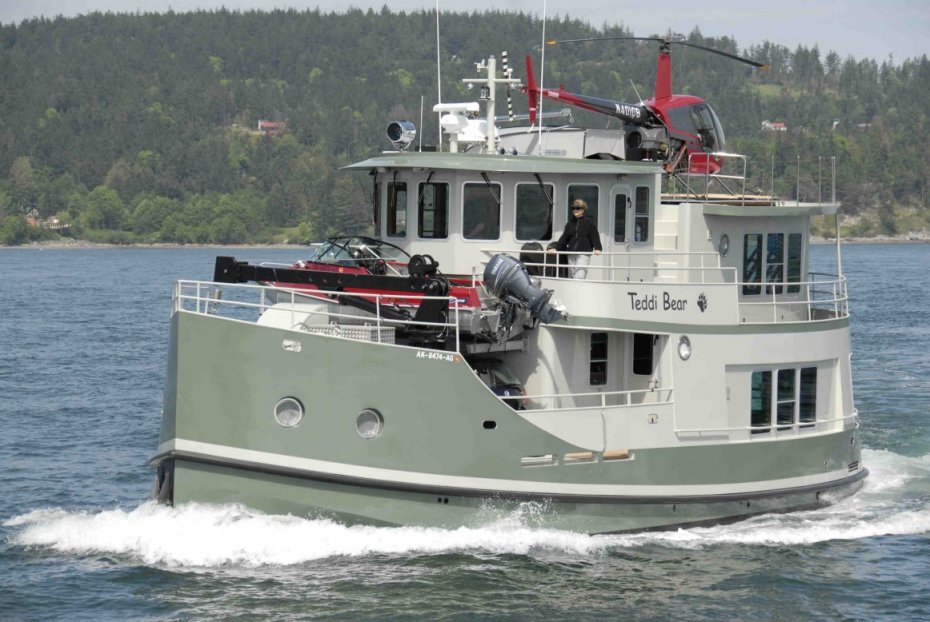 Benford Design Group and Tiller Publishing
- Jay Benford - Naval Architect - St. Michaels, Maryland -
Designer of St. Michaels iconic "Patriot", Jay has designed a wide variety of boats, both pleasure and commercial.
He sells Maritime books, including his own, from which you can build some of his designs.
Website: benford.us
---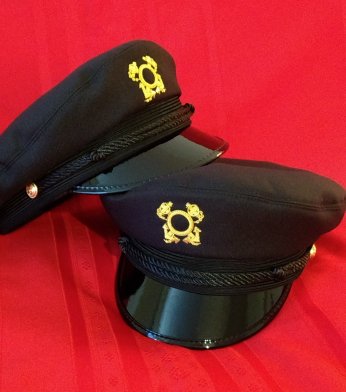 Benford Yacht Hat
- Jeanie Benford Jordan - Inverness, Florida -
Bringing the classic Captain's Hat back to market
Made in America in 11 custom sizes
Website: benfordyachthat.com
---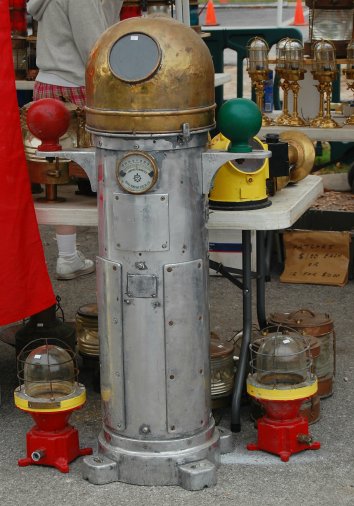 Big Ship Salvage
- Jim Unger - Milan, Ohio -
Jim is the new owner of BigShipSalvage, started by John Clifford. He carries an outstanding selection of Ships Lanterns and other Maritime Antiques.
Website: www.bigshipsalvage.com
---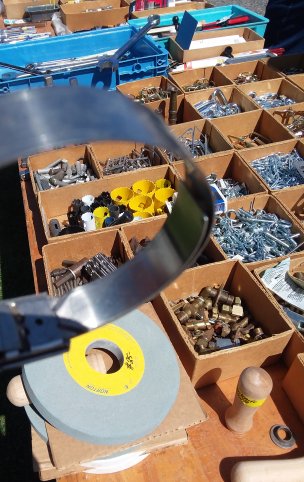 Bill's Tool & Supply
- William Bruce - Lebanon, Pennsylvania -
USA made tools, abrasives,hardware, marine parts, metal finishing specialties and more.
---

Cambridge Canvas & Sail Loft
- A full service marine fabricator, specializing in all your above deck needs such as full fitted winter covers, bimini tops, sails, sail covers, dodgers, full enclosures as well as exterior cushions.
Website: www.cambridgecanvassail.com
---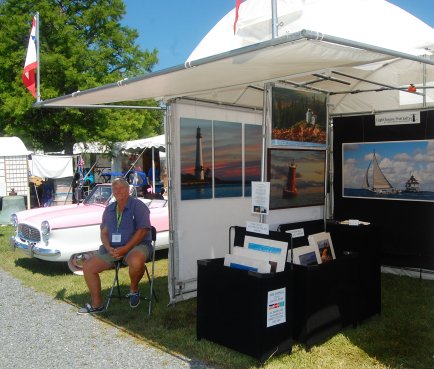 Lighthouse Portraits by Cam Chapman Photography
- Cam Chapman - Wiston, Florida - Professional photographer with a passion for lighthouses.
Website: CamChapman.com
---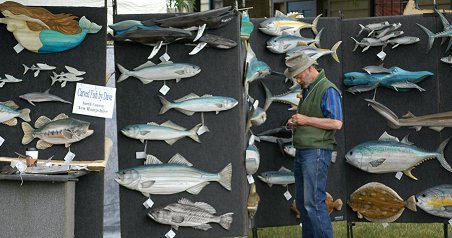 Carved Fish By Dave
- Dave Newcomer - North Conway, New Hampshire - Dave travels from New Hampshire. You will quickly see why so many people love his work.
---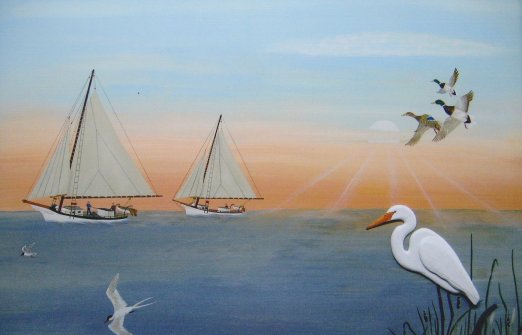 Artist Edwin L. Cook Sr.
- Harbeson, Delaware -
Painter
---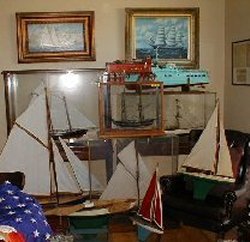 The Old Pacrats
- John Engstrom - Elaine Flint - Newark, Delaware -
Antique Nautical Prints - Antique Model Boats
---

Big Brothers Big Sisters of the Eastern Shore
Website: shorebiglittle.org
---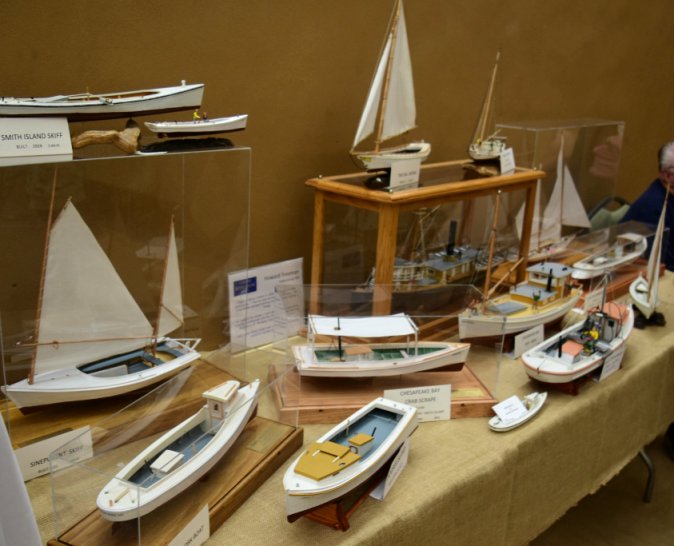 - Model Boats by Howard Freeman -
- Federalsburg, Maryland -
Builder of Model Bay Boats Old & New. Custom Models, Restoration and Display Cases
---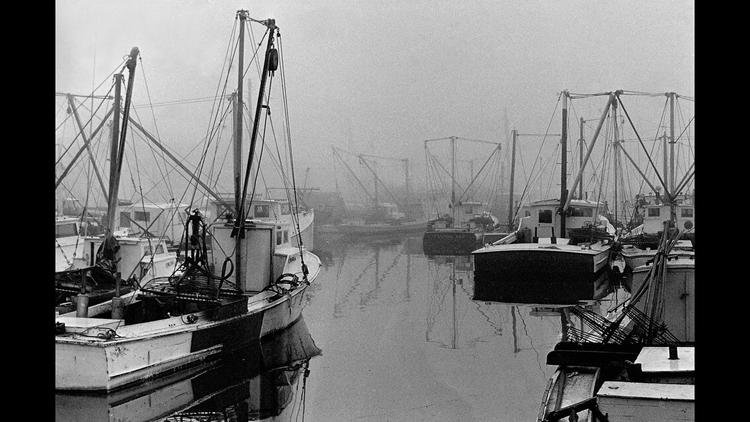 Crabtown Photography
- Joe Gruver - Arnold, Maryland - Master Photographer
---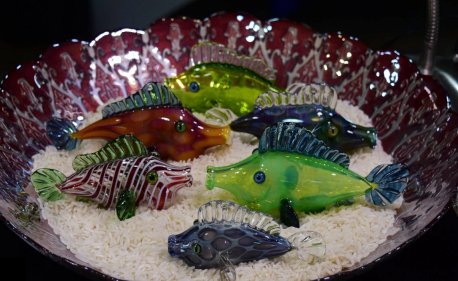 Seacrets of the Universe
- Joan & Michael Devaney - Salisbury, Maryland -
Hand-blown glass and other original jewelry
Website: luxglassworks.com
---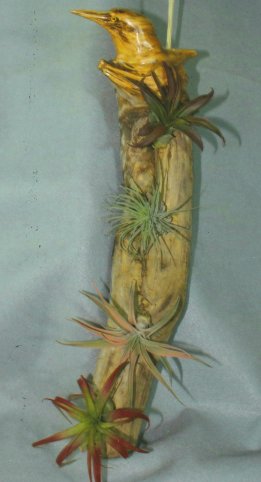 - Harry Dill -
Rehoboth Beach, Delaware
- Harry combines his carving skills with low maintenance flora to create living sculptures -
---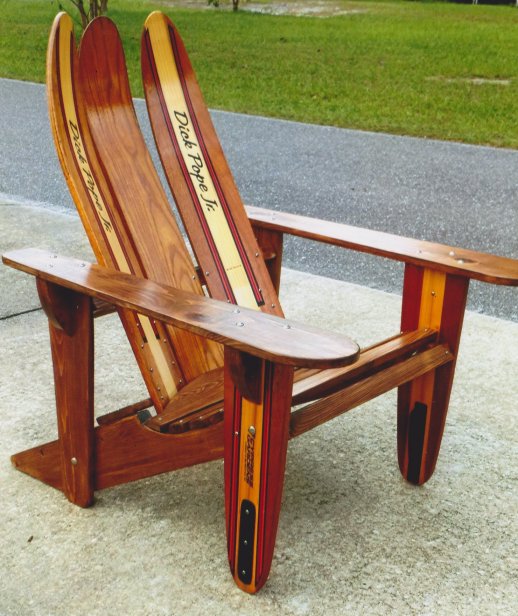 Nat Lake Co.
- Larry Nataline - Summerfield, Florida -
Maker of Adirondack Style Chairs from Vintage Water Skis, Ski Racks and Home Decor Signs
---

Jerry, Jane & Robert LeCompte
- Dockside Boatworks - Cordova, Maryland -
Specialists in all facets of classic boat restoration and repair
Website: docksideboatworks.com
---
Gottarow.com
- Rob Williams - Silver Spring, Maryland - Sculling skiffs, shells and sailboats from Little River Marine.
Website: gottarow.com
---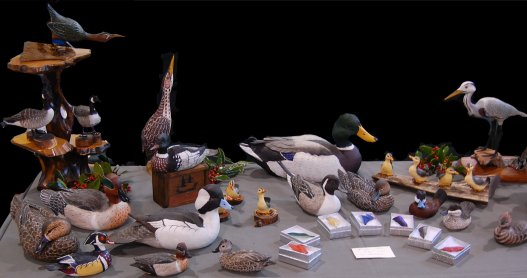 Wildfowl Carvings
- Bill Hickson - Cordova, Maryland - Bill is a well known and highly respected bird carver in the Eastern Shore tradition.
---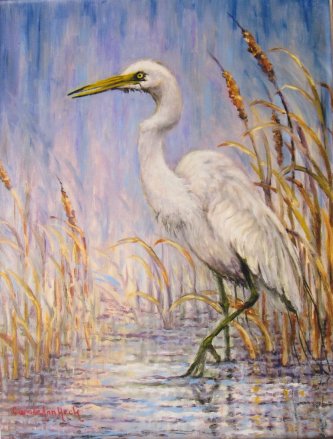 Carole Ann Heck - Artist
- Baltimore, Maryland -
Oil and Watercolor Paintings.
---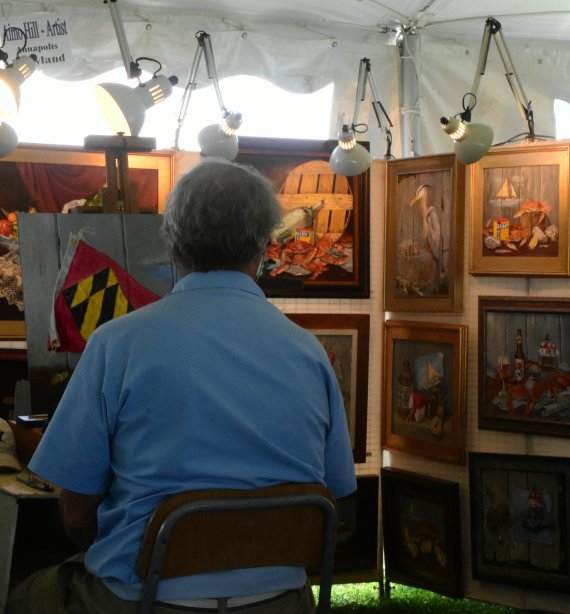 Aimo Hill - Artist
- Annaopolis, Maryland -
Oil and Watercolor Paintings.
---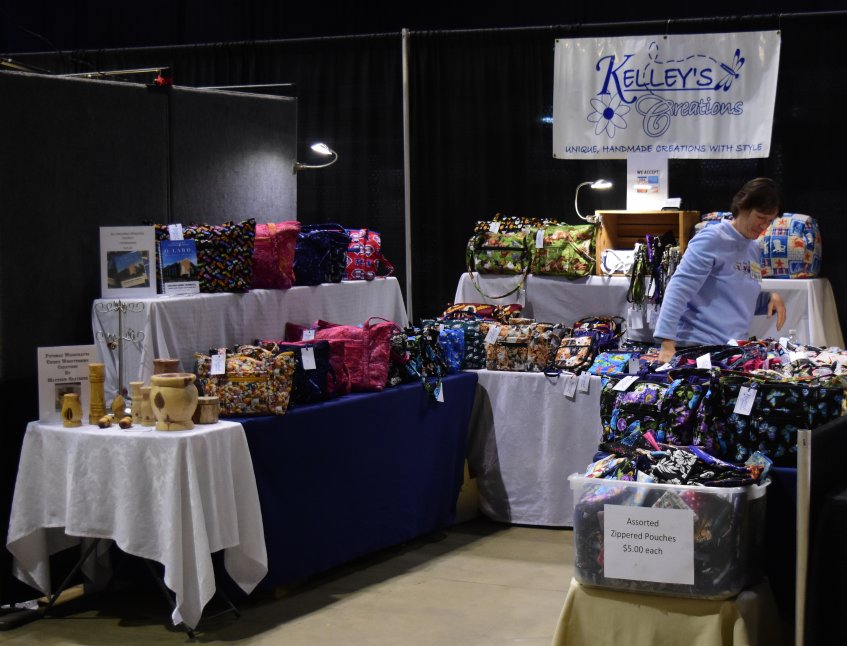 Kelley's Creations
- Kelly Gravenor- Snow Hill, Maryland
Quilted fabric handbags, totes, accessories
Website: kelleyscreations.etsy.com
---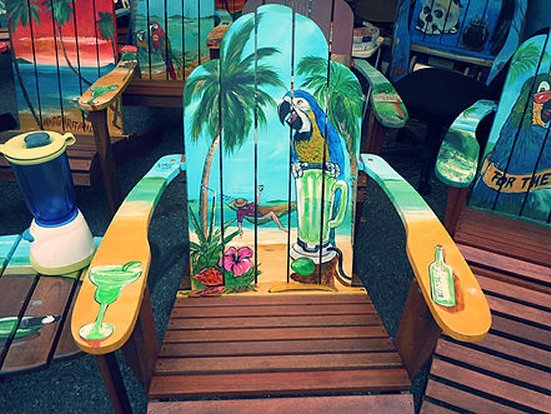 Sittin Pretty
- Dan E. Hinkley - Salisbury, Maryland -
Hand Painted Adirondack Chairs and Buoys.
Website: danhinkleysart.com
---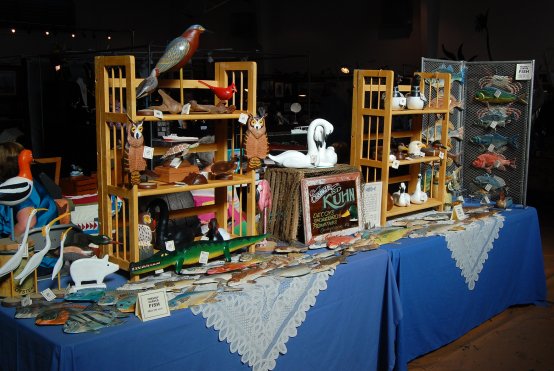 Ed Kuhn
- Chincoteague, Virginia - One of the well-known members of the Chincoteague carving community.
Ed carves beautiful birds and fish.
---

Maryland Natural Resources Police Reserve Officers
- Annapolis, Maryland -
- Marine Safety -
Website: dnr.maryland.gov/nrp/Pages/BoatingSafety
---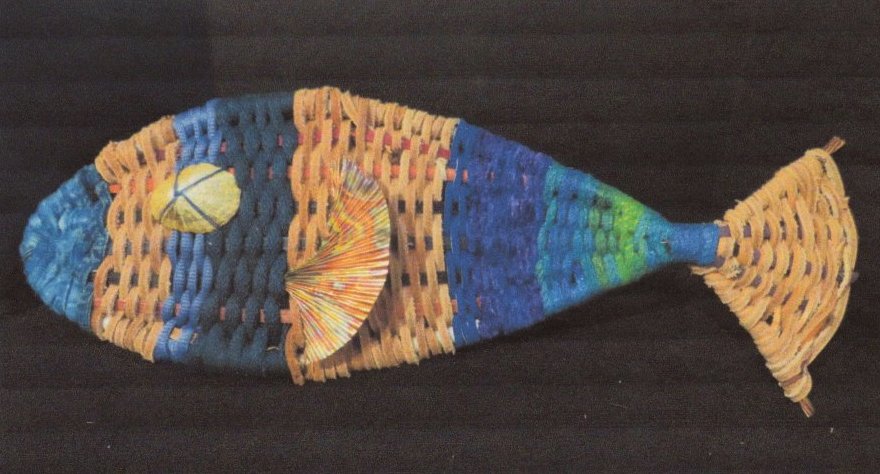 Heidi Wetzel
- Easton, Maryland -
- Woven Sculptures and Baskets -
Website: www.heidiwetzel.com
---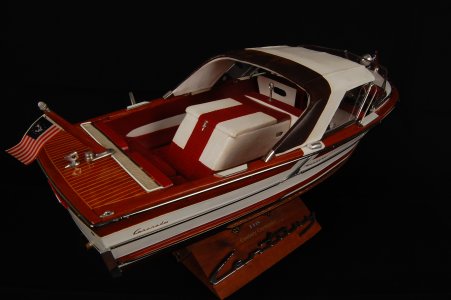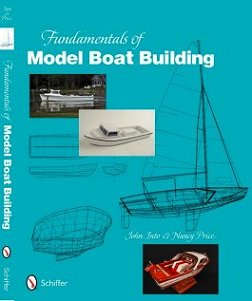 Model Boats by John Into and Nancy Price
- St. Michaels, Maryland - They make models 100% from scratch for a variety of customers throughout the world including naval architects, corporations and museums.
Check out their book: "Fundamentals of Model Boat Building".
Website: intothings.com
---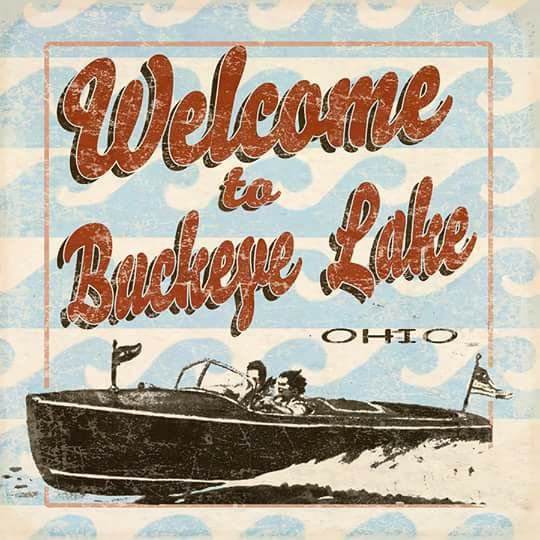 Nifty Driftwood
- Amy L. Newcomb - Avon Lake, Ohio - Driftwood sculptures and nautical sign boards.
---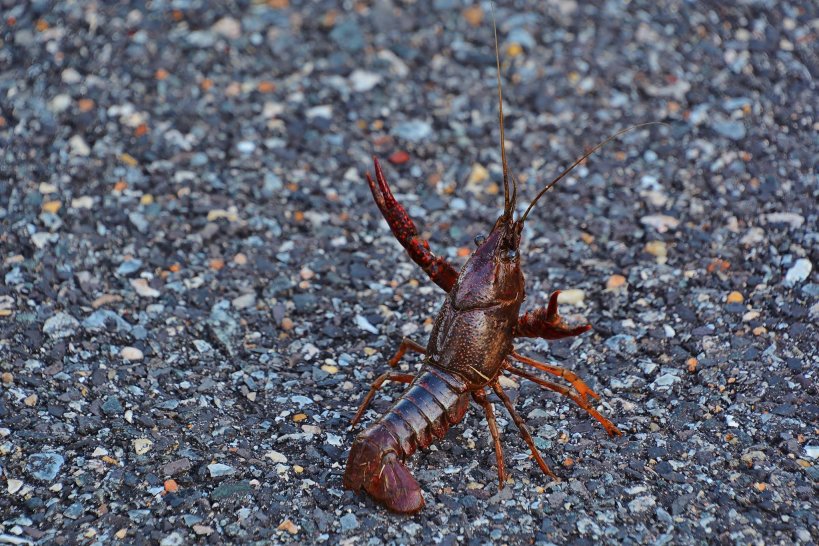 Joan Orme
- Joan Orme - Easton, Maryland - Photographer of life on the Eastern Shore.
---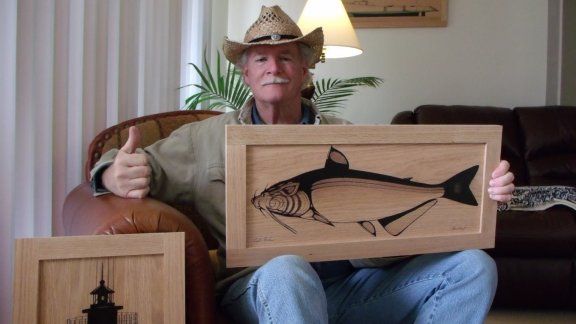 Russ Orme
- Russ Orme - Easton, Maryland - Pen and ink on oak, photography, paintings, philosopher
and author of several books about life on the Eastern Shore.
---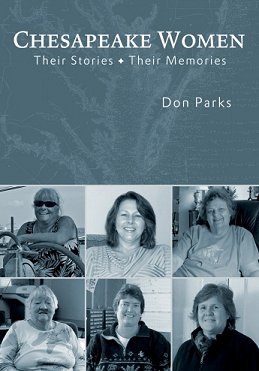 Park Trading Co.
- Don Parks - St. Michaels, Maryland -
You can learn some amazing things about the Chesapeake Bay from Don's books.
---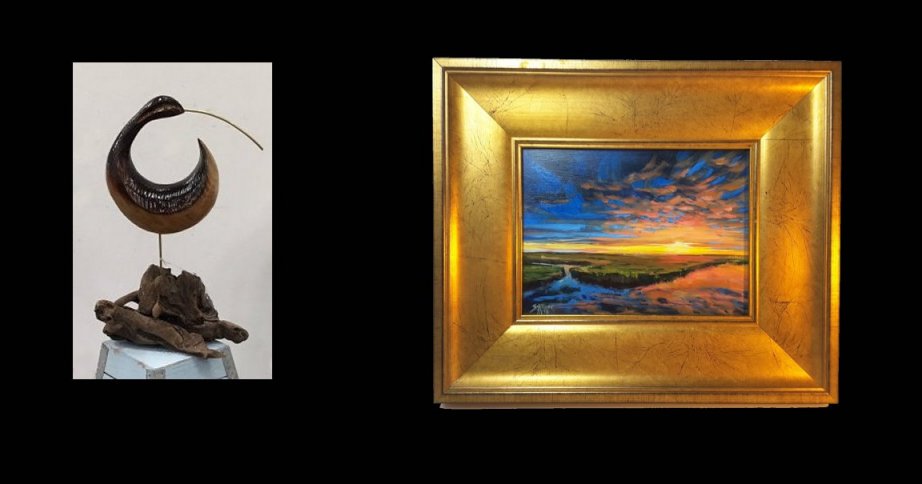 Ed Stough and Susan Keller
- Milton, Delaware -
Ed does Stylized Carvings, Susan is a Painter.
---

Phillips Wharf Environmental Center
- Tilghman Island, Maryland - Dedicated to preserving the wildlife of the Chesapeake Bay and teaching us how to protect this important resource.
Go inside the "Fish Mobile" where you'll find horseshoe crabs, sea horses and other living creatures of the Chesapeake Bay.
Website: www.pwec.org
---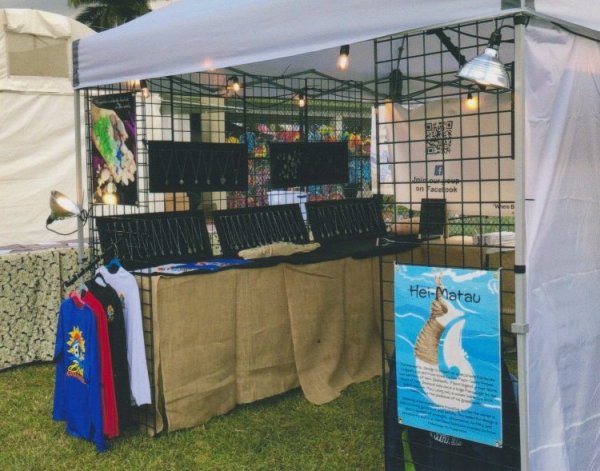 Boat Unlimited, LLC
Andrea Miller - Cape Coral, Florida -
Original Sea-Glass Jewelry, Imported Polynesian Jewelry, Antique Naval Architect's Drawings
---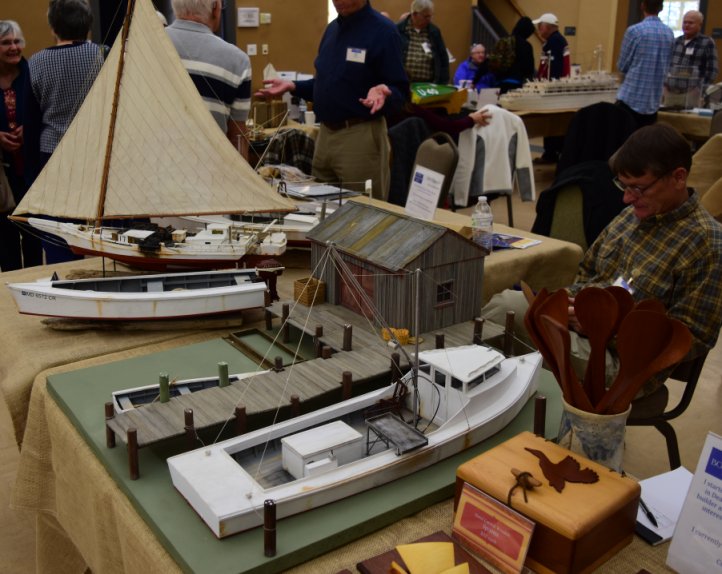 Chesapeake Workboat Modeling
- John P. Raeder Jr. - Mechanicsville, Maryland -
- John is dedicated to preserving Chesapeake Workboats through Model Making -
Website: baybuiltmodels.com
---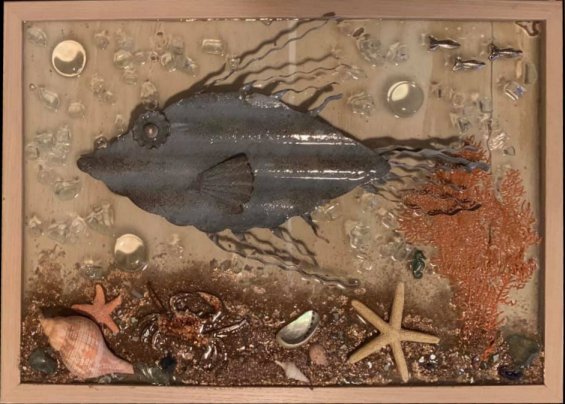 Mary Kramer - Mother Mary's Creations
- Easton, Maryland -
Nautical Resin Art
---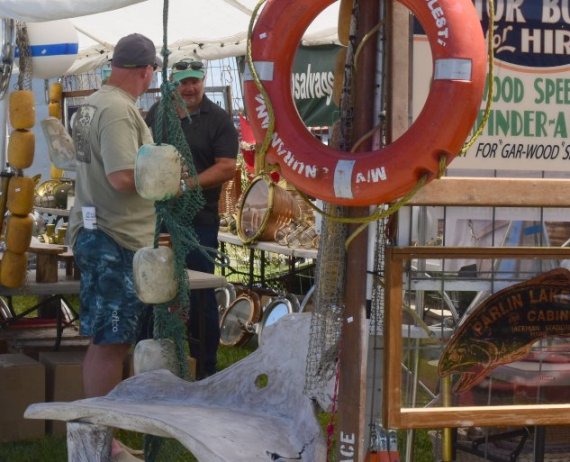 Sterling Graham Collection
-Gary Graham - Clarksrange, Tennesee -
Nautical lighting, teak benches, vintage advertisements
---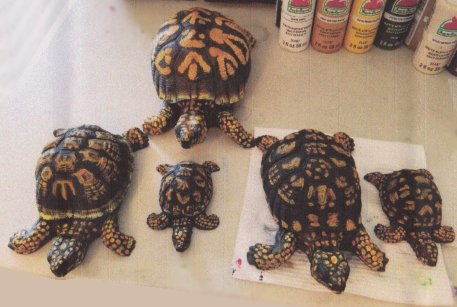 - Michelle Burke -
-Elkton, Maryland -
Painter of decoys, turtles and other items
---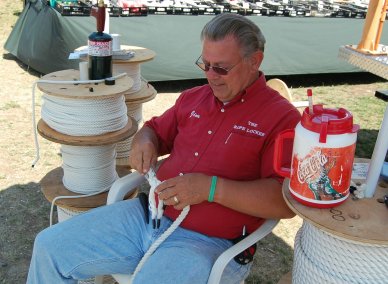 The Rope Locker
- Jim Torbert - Felton, Delaware - Seller of rope, common and uncommon and specializes in making and teaching difficult splices and knots.
Ask him what a "Gripmoor" is...
Website: www.theropelocker.com
---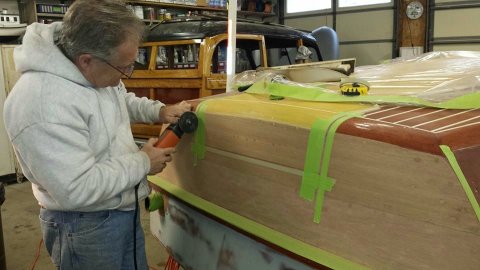 Will Ruhland Distinctive Finishes
- Salisbury, Maryland - Specialist in restoration and fine finishing of Wooden Boats and Cars.
---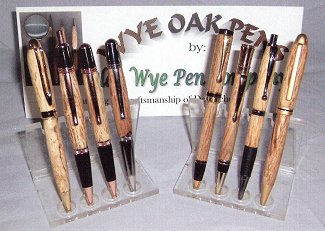 Olde Wye Pen Company
- Donald Schultz - Preston, Maryland -
Fine writing instruments turned from White Oak salvaged from what was Maryland's State Tree: The Wye Oak.
Website: wyeoakpens.com
---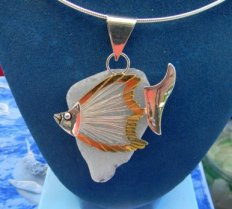 Seaglass Originals
- Carson & Bonnie Riley- Lewes, Delaware - Local handcrafted seaglass jewelry and seashell crafts -
---

Cape Woolamai Mercantile Co.
- David Phillips - Round Hill, Virginia - Fine clothing, accessories, coolers and other items imported from Australia.
Website: capewool.com
---

Tow Jamm Marine, Inc.
- Knapp's Narrows and Kent Narrows, Maryland -
Insured - Towing - Salvage - Ungrounding - Diving - Battery Jumps
Website: towjammmarine.com
---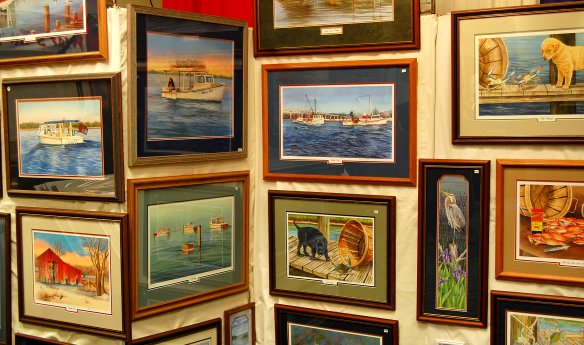 Mary Lou Troutman
- Cozy Cupboard - Dameron, Maryland - Official Poster Artist for 2008 -
Marylou holds many awards including Maryland Life Magazine's 2012 "Finest Artist in Southern Maryland"
Website: maryloutroutman.com
---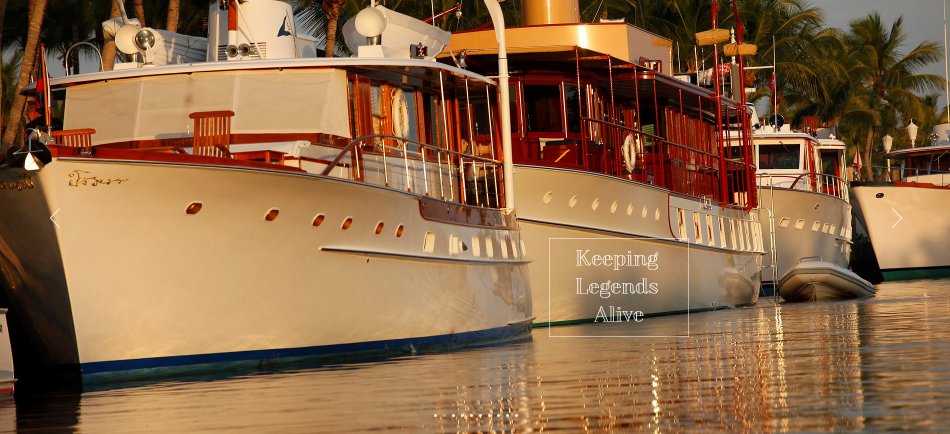 Moores Marine
- Jim Moores - Beaufort, North Carolina -
"Keeping Legends Alive"
Website: www.mooresmarine.com
---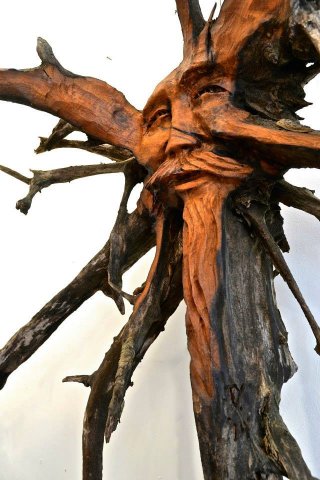 Unique Wood Sculptures
- Tom Yates - Annapolis, Maryland - Tom sees people (or fish, or other things) in trees and brings them out.
---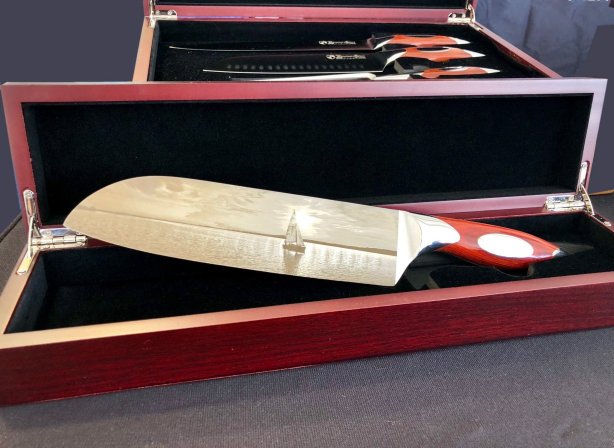 -John Ladow - Rhineland Cutlery -
- Melbourne, Florida -
Forged German Steel Kitchen Knives and Accessories
Website: rhinelandcutlery.com
---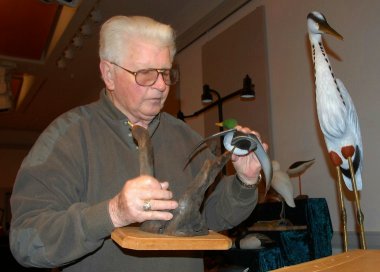 William Veasey - Elkton, Maryland
Carver, Author, Teacher
Waterfowl Festival - Hall of Fame, Ward Museum - Living Legend Award, Author of 14 books on the art of carving, etc...
---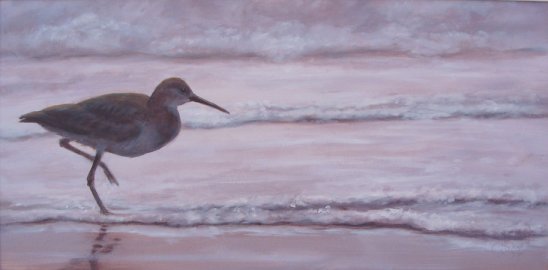 Nancy Richards West
- Chincoteague Island, Virginia -
Artist.
Website: Nancywest.com
---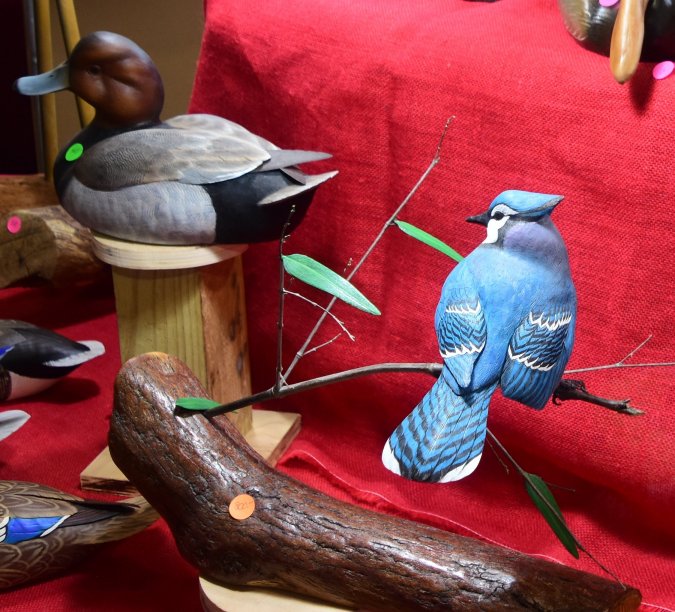 Tricia Veasey
- Bronson, Florida -
Master Carver and Author - Hand carved decorative Birds and Waterfowl
---

Wade Technologies
- Jim Wade - Philadelphia, Pennsylvania. - Electroplating and buyer and seller of metal parts for boats.
---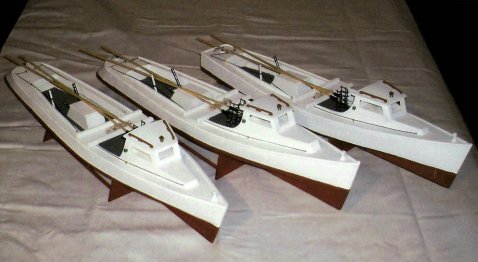 Chesapeake Bay Model Boats
- Charles Willey Sr. - Linkwood, Maryland -
In this area, the name Willey is well-respected when it comes to model boats.
---
Wooden Boat Restoration
- George Hazzard - Millington, Maryland - An experienced restorer of classic wooden boats.
Website: www.mywbr.com
---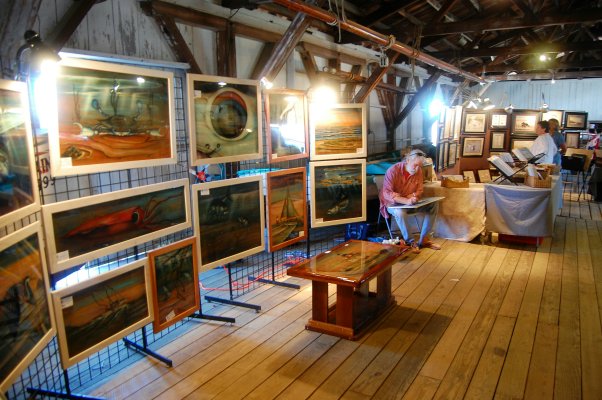 Wood Grain Interpretation
- Steve Lucy - Grasonville, Maryland - Steve brings art and function together beautifully with fine furniture for boat or home.
---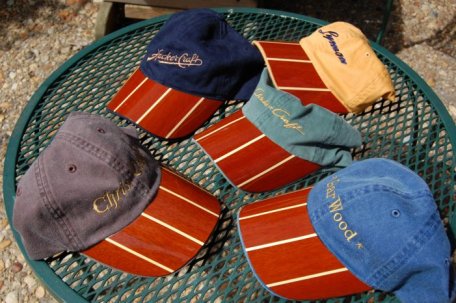 Woody Caps
- Linda Nagle Warner - Annapolis, Maryland -
You know those hats that everone says: "Where do I get one of those?" Right here!
...plus boat bailers and other important things...
Website: woodycaps.com
---
Please check back for updates. It's going to be a great show. Don't miss it!
---
If you would like more information about our vendors, or you feel that you would be an asset to our show,
please contact Nancy Price or John Into at 410-745-5954
or via email at:
johninto@outlook.com