Model Boats By John Into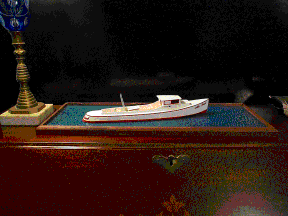 INTO THINGS, L.L.C.
Display Cases And Related Items
My models are complete when you receive them. Full-hull models are provided with a stand. Waterline models are meant to look beautiful when simply placed on a table or mantle. How and where you place your model relative to light, colors and space will serve to enhance your enjoyment of it. Here I offer some other options and items that can further enhance the display of your model.
Display Cases
For models with extensive rigging, small parts, intricate graphics, fine wire fixtures, or similarly delicate features, I recommend a display case, whether or not it comes from me. The reason is that it may be very difficult to clean such parts without endangering them. It is significantly easier to prevent dust than to remove it.

I make several types of display cases. The most common are glass or plexiglas with wood frames (left) or plexiglas "boxes" (right) that have a wooden rim sitting atop a wooden base. These cases are very sturdy, with various spline work and interior framing techniques. The wooden framed case is more traditional. The plexiglas box affords a clearer view. As a matter of reference, the plate inside the plexiglas case is 16.5" in diameter. The wooden parts of both cases shown were made of black walnut.

Features that are possible within display cases include: mirrored backgrounds for seeing both sides of a boat simultaneously, painted backgrounds, and full dioramas with above and below water features. Interior lighting is also possible. Externally, display cases can be table-top as illustrated above, wall-hanging or floor-based with legs.
Other items for enhancing your model
Because waterline models are meant to appear as if they are sitting in the water, a variety of accessories can be used to enhance the effect. These include: Water-bases, Piers, and Navigational aids. A Water-Base is a platform designed to simulate water. It is made from clear and textured materials set into a wooden frame; the one shown being black walnut. Both pictures are of the same Water-Base. The degree of perceived water depth is controlled by the amount and angle of light shone on it.
The effect is caused by the treatment underneath, which is not opaque, but translucent. There are many coats of paint simulating wave undulations, algae and other colorations found in water. I can modify the coloring to adapt to colors of water in various regions, because I mix my own paints.
Piers can be made in any style, scale and finish. These examples show a few styles seen in the Chesapeake region.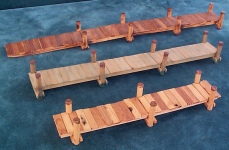 The top pier is weathered with copper caps and painted growth and is sloped at one end. The middle pier is stained to appear "treated" with painted caps and growth. The bottom pier is natural wood with copper caps. Note the pier that appears with the "Cara-Bear" on the Antique & Classics page. It has black cone caps. The top planking can be transverse, as shown, or longitudinal, in which case the planks run lengthwise to the pier. The pier can also be "T" or "L" shaped and can have bumpers, cleats, etc.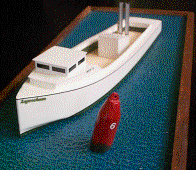 Navigational aids can be of any type imaginable. Most commonly I make cans and nuns, but they can be bell buoys or day-markers, as well.
For full-hull boats, a stand is included. Unless specified, I will make one that I feel best complements the model. However, a variety of stand styles are possible. The model can sit on a cradle, it can sit atop one or more pins or rods, such as the "Mary", in the glass case above, which is canted to appear as if it is turning and accelerating. It can be bolted to a base, such as the "Exodus", on the Pleasure Boats page. The materials for the base can be wood, metal or various plastics. I stock a variety of exotic woods for this purpose. Within a display case, the mount can be an acrylic sheet or other material that has a cut-out in the shape of the boat's waterline to make it appear as if the boat is floating. This can be powerful in displays featuring above and below waterline dioramas.
---
Because of monitor resolution and prohibitive file size restraints, it is difficult in some cases to adequately present details of these models. If you would like actual photographs, please contact me.
---
---
Model Boats By John Into
INTO THINGS, L.L.C.
P.O.box 54, Wittman, MD. 21676
phone 410-745-5954
(johninto@intothings.com)


All Model Designs and Photograghs on this page are Copyright 1998, 1999, 2000 by John Into. All rights reserved.