Model Boats By John Into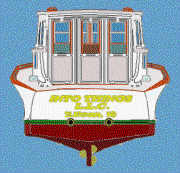 INTO THINGS, L.L.C.
---
How To Order:
In-Stock Items
I have had to remove my "in-stock" page, because my models sell before I can update the page. If you would like to know what I currently have available, please give me a call at 410-745-5954, Monday through Friday, 8:30 to 5:00 EST. I can tell you what is available over the phone and, if you would like, I can e-mail you digital photos of what we discuss. I try to always have some workboats and some HO scale models in stock. At times I cannot hear the phone in the shop. Please leave a message with your name, telephone number and a good time to call you. If you prefer, you can leave a message via e-mail with the same information and I will be happy to call you.
Custom Orders
Making custom models is the most important work that I do. It is where I get to demonstrate my skills and create the unique showpieces that have given me my reputation. Ordering a custom model is not difficult. When we talk we will discuss the subject boat you want modeled, important aspects you have in mind, stylistic options and what research items, such as photos,etc. you may or may not already have. You may have a very clear concept of the attributes of your model, in which case, I can calculate a price for you, or, you may have a preset budget in mind, in which case, I can provide you with a variety of ideas for creating your model. Price is based on the labor involved. Once we agree on the price, it does not change unless you change the specifications of your order. I require 1/3rd down to start work, the remainder due at time of delivery.
Gift and Other Time-Sensitive Orders
Please, if you want to buy a model as a gift, let me know as early as possible. Because of the work involved, there is a time factor and I must take orders on a first come, first serve basis. Ask me if you need to know what is a good length of time for assuring timely delivery of your order.
---
Prices exclude applicable taxes, customs fees, and shipping. All orders are treated on a first-come, first serve basis.
---
---
Please contact me for more information:
johninto@intothings.com